Project: Water Initiative – Swaccho Nirapad Parivesh (Clean and Safe Environment)
Funding Partner: Metro Services
Years of Association: Since July 2019
Duration: July – December 2019
Project Cost (INR): Rs. 1,289,221/-
Location: Rajnagar Block in Birbhum district, West Bengal
About the Project
The project ensured sustainable and improved WASH facilities in five need-based schools: Ramdanga Primary School, Kashthagara J.B School, Rajnagar High School, Barghata Primary School; and K.C. Bhairon Primary School. In addition, a participatory process (child engineering) involving the children was launched. It encouraged students to share their thoughts on the requirements of WASH facilities through drawing sessions. Later, the technical team was tasked with adapting and executing the aspirations proposed by the students.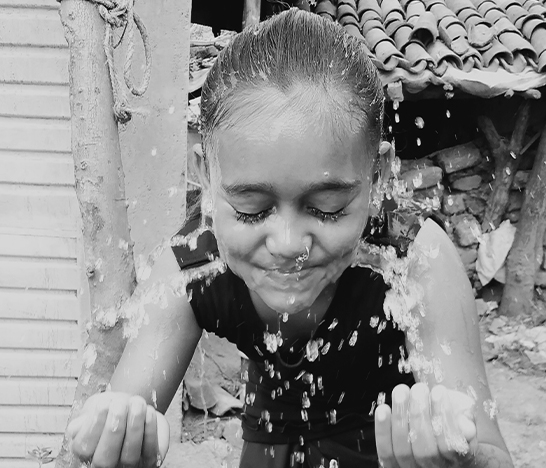 Key Objectives
Providing safe sanitation facilities in schools through the renovation of existing sanitary infrastructure.
Constructing handwashing and drinking water stations with running water facilities to ensure sustained improved hygiene among students.
Engaging the School Management Committee, Village Water and Sanitation Committee, and Gram Panchayat in operation and maintenance (O&M) and sustainability mechanism.
Scale of Impact
Child and gender-friendly toilets were constructed to benefit 1954 students across five schools. In Rajnagar High school, a menstrual hygiene facility (change room) was created to improve attendance among the female students.
Positive Outcomes
Around 317 students (181 boys and 136 girls) have been educated on WASH through activities including drawing competitions, human puppet shows, and dramas for wider reach.
434 students (208 boys and 226 girls) benefited from interactive hygiene sessions organized by the Water and Sanitation Committee members.
All five schools have a functional O&M system, supported by an allocated school fund.
A quarterly "Cleaning Material Drive" has been initiated in four primary schools. Parents have been encouraged to contribute to the schools' "WASH Corners" with materials like phenyl, soaps, brushes and buckets for regular cleaning of school toilet blocks.
Child Cabinet and WATSAN Committees have been formed at all five schools to ensure a clean and safe learning environment.
Replication and Scaling Up
As part of a larger initiative, Water For People India will continue to support unreached communities and public institutions in Rajnagar Block with safe drinking water, reliable sanitation facilities, capacity building of stakeholders, and establishment of a sustainable O&M system.