Addressing WASH requirements for 1,700 students in Hooghly suddenly appears easy
Dr. Partho Pratim Mukhopadhyay, Headmaster of the Bagati Ramgopal Ghosh High School is categorical in his praise for Water For People – India's work as part of ITC Limited Mission Sunehra Kal Initiative. "These two organizations have supported the construction of improved water and sanitation facilities in the school, and enabled a learning environment. I am deeply indebted to the organizations," he states upfront and he is clear about why.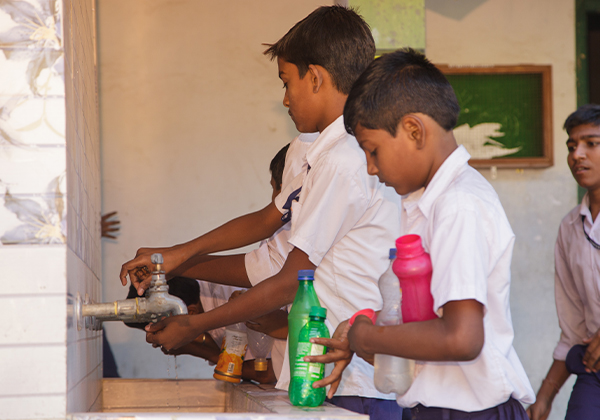 "Water, sanitation and hygiene are critical for the physical and mental development of children," he explains. "Mental development is linked to physical development. Water contamination causes diseases. With the drinking water facilities now available, we can deliver potable water. Girls did not have changing rooms and there was no incinerator. With the presence of comprehensive sanitation facilities, the students are more comfortable and as a result attendance has shot up considerably. This again positively influences mental development." The availability of a nutritious mid-day meal only adds to the physical and mental development. There is a drinking water station and handwashing facility available where the food is cooked.
The Bagati Ramgopal Ghosh High School has around 1,700 students. Between Class V-X there are only boy students, numbering around 1,150. The remaining students are girls admitted to Class XI and XII only.
The improved water and sanitation facilities, with separate toilet blocks for girls and boys with running water, change room with incinerator for girls, and separate drinking water and handwashing stations, were completed in 2016. A 50-member Water and Sanitation (WATSAN) Committee comprised of only boys has been recently formed. This is a new concept for the school.
The Committee comprising students and a teacher is responsible for monitoring the facilities and personal hygiene of the students. Facilities include four water closets and 13 urinals for boys and two water closets, three urinals and one changing room and an incinerator for girls. There is one drinking water station with running water and one handwashing station for the mid-day meal cooks. Members meet once a month to resolve any issues. An account in the name of the WATSAN Committee was opened in January 2017, in which the annual operations and maintenance (O&M) fees of Rs. 20 per student is deposited. Presently there is a total of approximately Rs. 10,000 in this account to pay for cleaning material, soaps for handwashing, etc.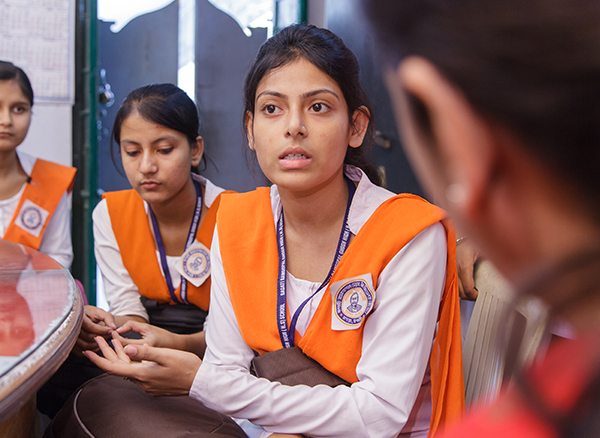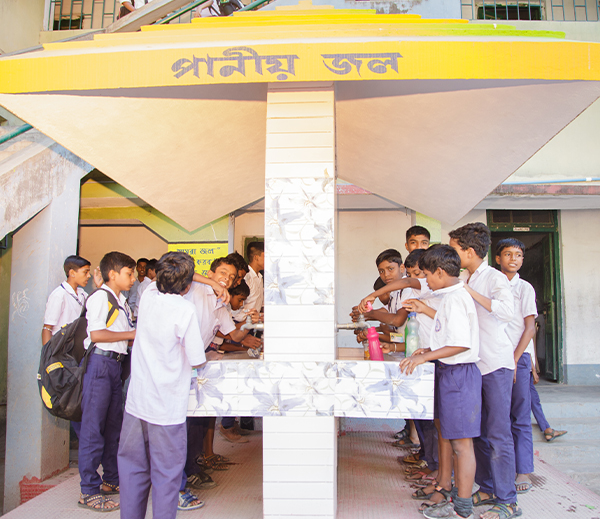 "We engage with the students as they enter Class V and get into Class VI. This gives us ample time to influence hygienic practices," informs the Headmaster.
The attractive, clean, and functional facilities have inspired a sense of ownership among the students who now maintain their cleanliness. "The students are acting as a bridge to communicate hygiene messages to their homes and villages," shares the Headmaster.
The mid-day meal is managed by a group of eights cooks, who have been rigorously trained on how to manage the meals. There is a separate water station for the kitchen. The school organized a training on 'taste and nutrition' for cooks from other schools in the block in 2015.
Class XI girl students have some suggestions on personal hygiene. "There is a need for more awareness on menstrual hygiene so that all students have a common understanding," suggests Shweta. "Some simple training to use the napkin vending machine would be useful," chips in Mousumi. "We also need to know how to manage pain during menstruation," suggests Nisha.
The Headmaster appreciates these inputs and smiles. "We have just begun the journey with our partners. Together we will address these issues to ensure a comfortable environment at school and lessons that can also help at home."