When Water For People India visited Tembrusonda village in July 2018, they received a special request. It came from a residential ashram school for tribal girls in Chikhaldara block, Amravati district, Maharashtra. The school was lacking basic handwashing facilities. The girls faced various problems during the menstrual period and had to compromise with their hygiene.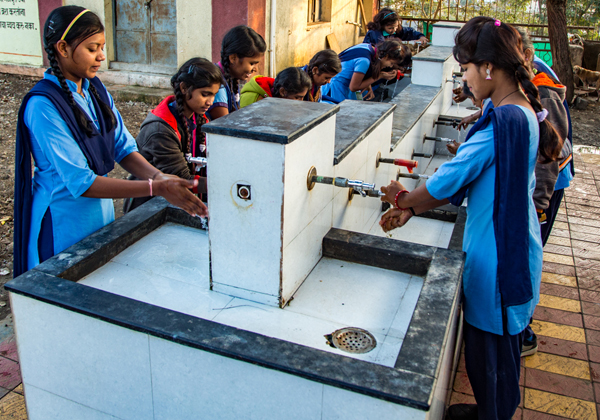 Neha Sanjay Palve, studying in Class XII, shared, "As all students are girls, the water crisis had graver implications. Our day used to start at 6:00 am, but there was never enough water available for our daily needs. As the number of students and staff increased, the situation worsened. We were constantly worried about getting enough water for drinking and bathing. We didn't have enough water to even keep the school premises clean. To use toilets, we had to carry water in jugs or bottles and sometimes attend classes without bathing for days."
In November 2018, Water For People India collaborated with Colgate Palmolive (India) Limited and decided to intervene in the matter. It was found that the water source was located 4 km from the school. A storage tank was connected to the water storage tank of the school and 22 taps were fitted to the drinking water station. Students and the staff were equally jubilated to access water facilities within the hostel premises.
Later, an introductory session was organized to discuss the Water Safety Security Plan with the school children. Approx. 150 girls were present during the activity. One of the major discussions was with adolescent girls about Menstrual Hygiene Management (MHM).
Mrs. Mankar, the hostel warden working in the residential ashram school for the last two years witnessed a sea change in the students after the new drinking water tank was constructed with handwashing and drinking water facilities. In her words, "Water facility was not available in the hostel premises, and therefore the girls residing here were facing a lot of problems. Some of them were not even washing hands before taking meals. With the construction of new drinking water and handwashing stations, we now have sufficient water. All the girls now regularly wash their hands before and after taking meals and after using toilets. The wastewater generated after washing utensils is being used to water the plants on the premises. Now the children are also planning to indulge in kitchen gardening from the next academic session."
After the intervention, girls like Neha are filled with joy to have safe water in their premises round-the-clock. They are more than happy to do their studies and never miss a class.