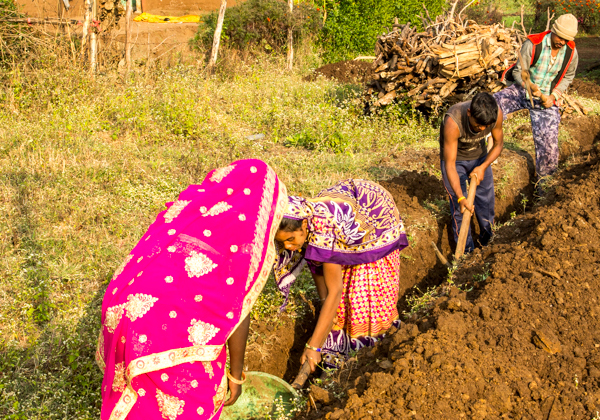 Khatkali is a small village with 100 households in Amzari Gram Panchayat, Amravati district, Maharashtra. When Water For People India team visited the village in May 2019, it was devoid of a functional water supply scheme. The women in the village had to walk miles to fetch water while leaving their children alone at home.
Water For People India in collaboration with Colgate Palmolive (India) Limited decided to provide a water supply scheme in the village. Villagers actively participated in carrying out a technical survey of the village as well as preparing the village water safety and security plan (VWSSP). Finally, construction of a 20,000 litres storage tank and individual tap connections with a stand post for every household was planned.
Reena Jambherkar is an ASHA worker and resident of Khatkali Village. Life has been a complete turnaround for her with water being made 'available' and 'accessible' at home. She adds, "The major problem was during our periods. We were not allowed to go near the handpumps to fill water. It was very challenging. Families with single woman had to struggle even more. But now we all are very happy. As water is available at home, we now have enough time to do other chores and improve our sanitary habits."
The water supply scheme has been completed and is regularly maintained by a dedicated water user committee.
"When Water For People India team visited us, somewhere we had a hope that our water woes would soon be over. And now it's like a dream come true. We now use our time productively. Truly, for us, water at home means happiness," Reena shares with a never-ending smile.