Women in Godhan Village make sanitation their mission.
"Every month we used to spend around Rs. 2,000 of our hard-earned money on doctor's fees, mostly for preventable diseases. We simply lacked knowledge of hygienic practises," shares Safina Khatun, 35-year old member of Godhan Village, Surgahi Gram Panchayat in Tariyani Block of Sheohar District, Bihar. Safina is a peer hygiene educator for her community. She is also the proud owner and user of an individual household latrine that was constructed in July 2016.
With 350 households, the village consists of a largely poor and mixed population of caste and religion. Men migrate to other states to work as agricultural labourers and women take care of their families while working hard to earn some money. Savings are next to none.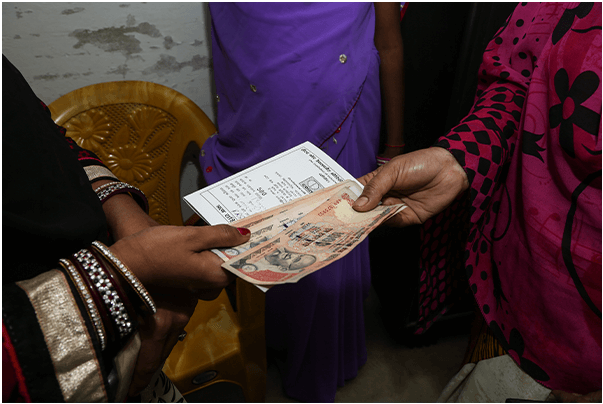 As part of the Sheohar, Bihar Program managed by Water For People – India and supported by One Drop, a Social Art Field Facilitator visited the village to conduct a survey and create awareness on hygiene. Social art is a form of behaviour change communication through local artists that activate, inspire, and sustain behaviour change by connecting with people at an emotional level. Most of the women the Facilitator met were unaware about basic hygiene practices. They consumed uncovered food and water, and rarely washed their hands or brushed their teeth. Their teeth and nails were stained, and stomach-related complaints were common. Trash was everywhere in the village.
As the women were keen to learn about hygiene practices, a multi-disciplinary show focusing on sanitation and hygiene was organized and meetings were conducted with Panchayati Raj Institution members and community leaders. In a follow up visit, the facilitator noted the women's eagerness to learn, and the 18-member 'Khushbu Sanitation Group' was formed to 20 21 strengthen their hygiene knowledge and help them become peer educators for others.
A month and several training sessions later, these women were ready to carry forward the hygiene initiative. They conducted meetings with villagers and informed them about the benefits of simple hygiene practices such as covering food, bathing daily, washing hands at critical times, and cutting their fingernails.
The story does not end there. Another important challenge before them was the absence of household toilets. Whenever they went alone in the field for defecation, they were taunted. The village leaders expressed helplessness saying, "Either you built an individual latrine in your home or ignore the eve-teasing." A few days later, they heard about a child dying due to a snake bite while defecating in the open. The very same day, the women began conversing with male members of their family about the construction of toilets. The men cited the lack of money and mentioned that there was no harm in going out for open defecation as this was an age-old customary practice.
However, the women saw a ray of hope when the Facilitator informed about the availability of a sanitation loan from a local microfinance institution (MFI). Their spouses agreed to take out the loan on one condition: the women would pay the loan on their own. The women willingly agreed.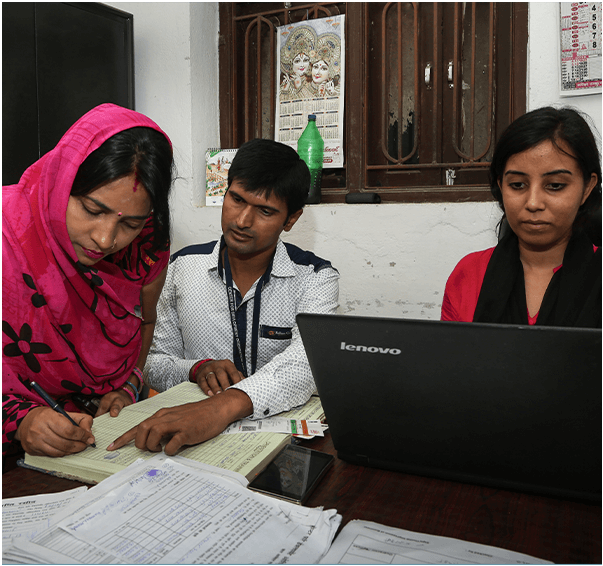 In early July 2016, a Loan Officer from Water For People – India's MFI partner, Centre for Development, Orientation and Training (CDOT), visited the village to inform the women about the sanitation loan terms and conditions, and to provide support in accessing the loan for the construction of latrines.
The Loan Officer also informed about the loan process and the need to form a Joint Liability Group (JLG) of five, all-women members. Fifteen women, including Safina and her acquaintances, Khushbu and Manju, and other like-minded females formed three separate groups and named them Khushbu Mahila Mandal, Safina Mahila Mandal and Manju Mahila Mandal.
After the due diligence process, each member received a loan of Rs. 10,000 on an agreement to repay in twelve installments of Rs. 955 per month. The toilets have since been constructed and the repayments are being made.
The commitment of the women to spread hygiene awareness continues. When Safina goes out to sell bangles or Manju is present in her grocery store, they spend five to ten more minutes with every customer and explain to them the importance of including good hygiene practices in their lives and encourage the construction of household toilets.
The members of the JLGs conduct hygiene classes for children and motivate women and children on latrine construction and use. To adolescent girls, the women also teach menstrual hygiene.
According to one such adolescent girl, when there were no toilets at home, in addition to the challenge of open defecation, they faced embarrassment during menstruation. There was no privacy possible, so napkins were changed less frequently leading to poor menstrual hygiene and subsequent health implications. Personal hygiene levels have also increased among adolescents due to improved practices and access to the latrines.
"We no longer have to give money to doctors. We are now able to focus on hygiene and our children's education," smiles Sheela Devi.