Water For People develops a cadre of entrepreneurs delivering critical services for water security.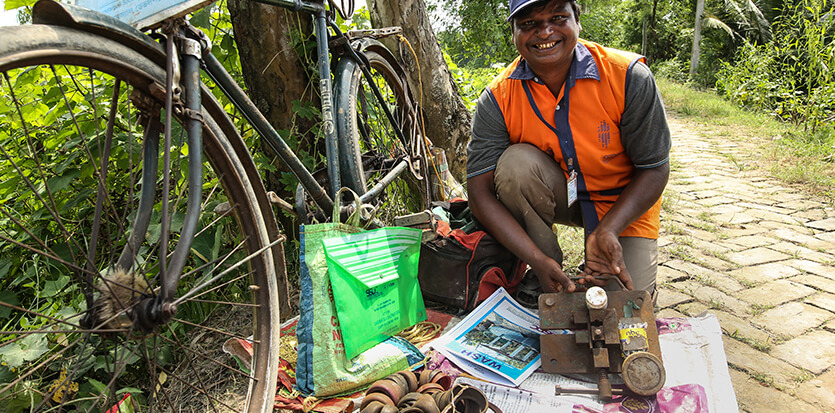 As a major source of potable water, hand pumps are ubiquitous in rural India. According to a recent national survey, about 43 percent of rural households rely on hand pumps as a principal source of drinking water. Historically, poor operations and maintenance (O&M) of these water points has been a key challenge in the provision of safe and reliable water services. Now, as the Government of India aims to deploy tap connections in all rural households under Jal Jeevan Mission (JJM), ensuring that the piped systems remain functional will be paramount. A cadre of professionalized, skilled water system mechanics embedded in local communities might just be the ideal candidates to take on this daunting yet critical task.
Water For People, a nonprofit organization that supports the development of high-quality water, sanitation, and hygiene (WASH) services for communities, promoted Jalabandhu (Friends of Water) initiative in South 24 Parganas in West Bengal after the annual monitoring data revealed that a large number of hand pumps were defunct or in poor working condition. During breakdowns that lasted on average between 10 to 15 days, many families resorted to unsafe water sources. In some cases, the community abandoned these sources permanently. Lack of skilled mechanics in the community, high cost of repairs, and difficulty obtaining spare parts were identified as some of the key reasons for the prolonged downtime.
The Jalabandhu initiative, which started in 2009, is designed to ensure the sustainability of water infrastructure by addressing operational and management (O&M) gaps. Centered on building local capacity, Water For People recruits and trains individuals from the program areas. The main objectives of the Jalabandhu initiative are as follows:
Maintain hand pumps and water supply schemes to ensure continuous access to safe water
Reduce downtime through timely repairs or replacement of non-functioning water points
Professionalize and create business opportunities for local individuals by providing training and repair kits and linking them to local water user committees for sustained work
Conceptualized and piloted in South 24 Parganas, West Bengal, the program started with a cohort of 55 aspiring Jalabandhus receiving a 5-day training. The graduating Jalabandhus were then linked to water user committees (WUCs), who would formally procure their services. Each Jalabandhu was responsible for approximately 70-200 hand pumps and their contact information was displayed at the respective water points.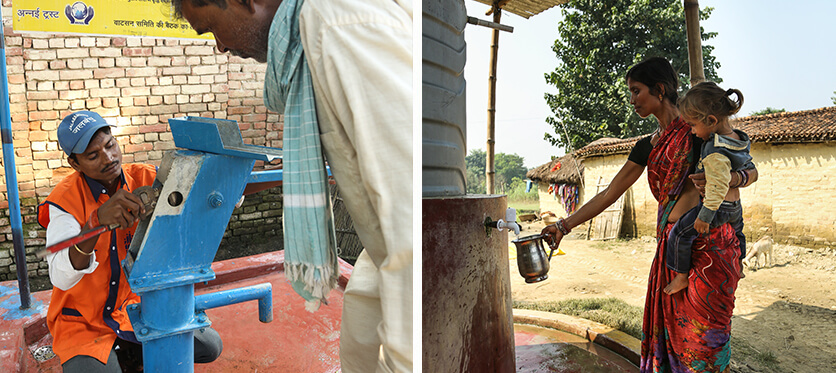 In 2012, with funding from the government, another cohort of 55 Jalabandhus was trained to cover 5 blocks in South 24 Parganas. In 2012, when Water For People expanded its programming to Sheohar district in Bihar, 106 individuals were trained and equipped as Jalabandhus.
Today, Jalabandhus are an integral part of Water For People's Everyone Forever approach, reinforcing sustainability of water service delivery. For accountability and capacity building, every two months, Jalabandhus' work is reviewed at block level meetings. The review process, which includes an assessment of the repair work and the time taken to restore water points, helps provide feedback to Jalabandhus. Additionally, the Jalabandhus are given the opportunity to share their experiences with the community at these meetings.
With light-touch support from Water For People and direct engagement with the community, the Jalabandhus now form a strong and independent network of professional mechanics who play a critical role in making sure that water access is uninterrupted in the program areas in South 24 Parganas, West Bengal and Sheohar, Bihar.
Some Jalabandhus are also called upon to repair private, household taps. They provide a range of services from minor repair work such as chain fittings and replacement of hand pump parts to complex tasks such as restoration of underground machinery, including cylinder repair, pipe replacement, connecting and fitting rods, and changing washers. In addition to repairing hand pumps, some Jalabandhus have been trained in plumbing and pipeline work. On average, a Jalabandhu earns Rs 4500-Rs 6000/ month.
A cadre like Jalabandhus has long been a missing link in India's WASH sector. While most programs identify a 'community resource person (CRP)' who acts as an interface between the communities at large and the service authorities, their role largely remains limited to the program period. It is often difficult for a district or block administration to locate previously trained CRPs when a new scheme is introduced in the district. Additionally, a clear strategy for motivating and incentivizing the CRPs for sustained livelihood beyond time-bound programs is absent.
To avoid similar shortfalls, recognizing the Jalabandhus as part of the skilled workforce through a certification process by National Skills Development Corporation (NSDC) or other similar institutions could provide secure livelihood opportunities, afford them the dignity, and help generate much needed employment in rural areas.
A digital registry of such a cadre with search & locate functionality can save a lot of time and resources. Such registry also eases the pressure on public investments while ensuring that a reliable, capable cadre of people is readily available as first responders to community's WASH needs. As demands and opportunities expand, the Jalabandhus can be trained to upgrade their skills to include repair and maintenance of piped systems and water resources management – the possibilities are both endless and exciting!